About Us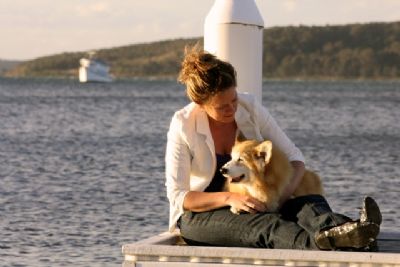 It was no surprise that growing up with this enchanting breed would lead to such an addiction! AZIAH - a life long envolvement and an ever growing love for the breed. A page to celebrate my Nana, Jean Johnson (JODIWYN) will be included shortly.

When 'Storm' bounced into my life, I could never have imagined what was to follow...CH ABERLEE SUMMER STORM (sire of 8 Champions, including: Am Ch Aberlee Storm Force ROMX & the 2004 Australian National winner, Ch Aberlee Skys The Limit), his offspring are undeniably 'his' and have been awarded highly.
Our foundation bitch 'Charlotte' - CH DAWCO GOLDEN GLORY was obtained from David Dawes, she came to us a sweet 3 month old baby and gained her title at 18 months of age with some lovely wins. She produced one litter of two puppies and her daughter 'Chelsea' - CH AZIAH ARTISTIQUE EYES went on to become our very first homebred Champion and how fitting for her to become our first homebred Best In Show Specialty Show winner!
We campaigned two bitches for Bob & Joan Hutton and one we bred to 'Storm' to produce the wonderful showman, 'Spyder' - CH AZIAH BUNNY ON THIN ICE, our second homebred Champion and a Reserve Best In Specialty Show winner. Now retired and living with our good friends.
'Chelsea' produced two Champion daughters, 'Rogue' - CH AZIAH COLD AS EYES, a second generation Best In Specialty Show winner and 'Goldie' - CH AZIAH CUDDLIN INTH COLD who went to make her way with our wonderful friend Bonny Jones. The third sister, 'Russia' - AZIAH OHH SO COLD went to live with our good friend Dianne Connolly and was Major Pointed in the USA before sadly having to be spayed with pyometra.
Without the wonderful support, encouragement and understanding from my parents (carting me around to dog shows well before I was of driving age!), my journey wouldn't be near as successful, exciting or fulfilling as it has been thus far.
Our lastest youngsters have had a successful show careers, in 2010 we made up 4 new Champions, all from the one litter, a further 2 in 2011 bringing our total to 11 homebred Champions.
Our most recent baby is now 2.5 years of age and has exceeded all our expectations…every breeders dream; to win a National Specialty. "Avery" – BISS RBISS CH AZIAH CURIOUSER AND CURIOUSER was awarded the top honour of BEST IN SHOW at the 15th Welsh Corgi National Specialty, November 2012.
My husband, Ryan (a mad keen fisherman) has supported my love for the Pembroke Welsh Corgi and though he doesn't exhibit himself, he keeps me company at shows and enjoys our great 'dog show adventures'!
We hope you enjoy browsing our website...